Submit Canvas Help Ticket
Other Ways to Request Help
In Person
Your eLearning Coordinator, Jeremy Winn, can be located in room 1517 of the John Spellman Library and is happy to accept walk-ins as availability permits, but you are strongly encouraged to schedule an appointment in advance.  When requesting an appointment, please suggest at least two times that you are available to meet.  Request your appointment by phone at 360-538-4085 (leave a message!) or email at elearning@ghc.edu
By Phone
Before you dial, please be advised that you MUST give us your Student ID number (SID) so that we can assist you.  For the best help, please be prepared to provide a specific description of your problem.
Call 360-538-4085 and leave a message with a description of your problem if there is no answer.
Through Canvas
If you are having a problem with a specific page in Canvas, the recommended way of submitting a help request is to access the Canvas Help icon (shown below) from the page that you are having trouble with, then click Report a Problem and complete the form.  This allows our support team to see the problem you are experiencing.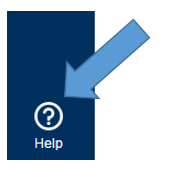 Please Note: For common Canvas issues and after-hours support, please refer to the Canvas Guides.